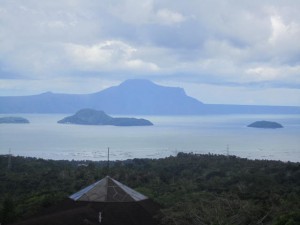 Tagaytay is 55 kilometers away from Metro Manila. You can either ride a bus (approx. 70-100 pesos) or hire a van (approx. 4000 pesos) for a day trip, or stay there for a night and experience Tagaytay's breezy and foggy climate.  A two-day getaway to this beautiful area is a great opportunity to experience some of the best natural beauty the Philippines has to offer.
Getting There
From McDonalds Taft Ave MRT Station, there is a bus going to Tagaytay. Ask to be dropped off at Olivarez near Rotonda. Here are the Hotels near Rotonda:
Green Leaf Hostel (Formerly Le Freva Hotel)
Aguinaldo Highway Silang Crossing- East Tagaytay City
Room rate: 2500 (Good for one family 2BR/1BA)
Contact Details: 046-413-1459
0939-859-8644
0927-307-3179
Days Hotel
Aguinaldo Highway Silang Crossing- East Tagaytay City
Room rate: Starts at  5,525 to 12,403
Contact Details: 046-413-2400/046-413-2525
Note: You can have a scenic view of Taal from the Veranda
New Orleans Auberge Hotel
Aguinaldo Highway Silang Crossing- East Tagaytay City
Room rate: Starts at 1300 to 5200
Contact Details: 046-483-0165/046-413-4353
Tagaytay Country Hotel
Olivarez Plaza, E. Aguinaldo Highway, Tagaytay City
Room rate: Starts at 3,750 to 6,850
Contact Details: 046-413-3310/ 046-413-3097
09209507702
Arrive at the Hotel you want to check into. Leave your luggage and go for lunch.
You have to try the delectable and affordable lunch at KUBO Restaurant by Tagaytay Country Hotel. Cheapest meal is about 55 pesos with 10% Value Added Tax. Their Pork Sisig is a must try. Pork Sisig is a Filipino dish which originated from Pampanga, in the West it is known to be sizzling pork jowl, ear, shoulder cooked with calamansi and chilis.
Rest your stomach after a sumptuous meal but don't fall asleep, the Kubo (nipa hut) is very conducive for sleeping, your lunch will not be complete without dessert. Some 30 meters away is the store called  Loumar's. Ask around and they would tell you where. You have to try their Buko Pie for only 180 pesos you can share it 2 or 3 other people.
Ride a Tricycle from Olivarez to Picnic Grove (100 pesos)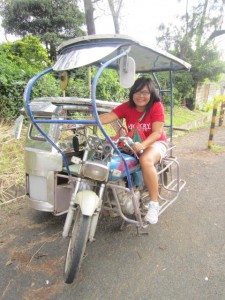 Picnic Grove Tagaytay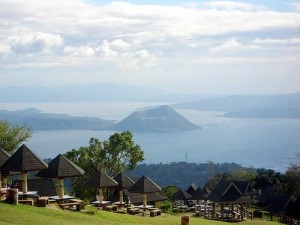 This is the most visited park in Tagaytay. You will have a breathtaking view of Taal Lake. You can spend your afternoon here and experience the cool air for added relaxation. Very affordable and there are amenities available nearby (Zipline, Cable Car, Horseback riding). There will be plenty of tourist guides who will ask you to try horseback riding, Taal Crater trekking, etc. (It's up to you if you are up for an adventure like that.) You can spend the whole afternoon just relaxing there, with a scenic view of the Taal Lake, without having to pay more and travel more.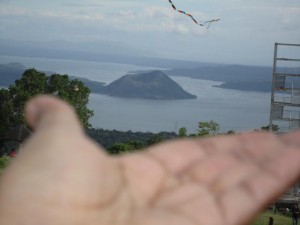 Spend the Night at Magallanes
From Picnic Grove you can ride a jeepney and pay less than 20 pesos to go to Magallanes.
Dinner at Leslie's
Coffee at Starbucks
Delicious Ice Cream at Buoun Giorno
Relax at the bars nearby
If you are up for some private singing and grooving, just a few steps away from Starbucks is Bali Seafood Restaurant where an exclusive KTV is waiting for you. Pay 300 pesos per hour with two user friendly microphones.
Another option for dinner: You can spend the dusk and night at Skyranch Tagaytay and enjoy their activities.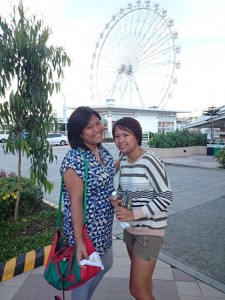 Enjoy the Sky Eye's ride for 150 pesos
Wake up early in the morning, Ride a bus from your hotel going to Nasugbu and ask the Driver to drop you off at Don Bosco Batulao. Fare should be 50-70 pesos
Chapel on the Hill, Don Bosco Batulao
Enjoy the cold morning communing with nature and experiencing a priceless tranquility. No Entrance, For non-Catholic you don't have to attend the mass to get inside, just go in, be quiet and roam around.
Choices for Breakfast (in ROTONDA area)
Bag of Beans – if you want bread for breakfast
Dexter's Pizza- if you are up for Pizza
There's McDonalds, Jolibee, and other fast food nearby.
Note: If you know a friend or someone who is a homeowner in Tagaytay Highlands you can also add it to this trip. Enjoy a different angle of Taal Lake, experience the funicular ride, and see their first class golf course.
Have a late Lunch at Ka Rey Seafood Kubo sa Restaurant located at Aguinaldo Highway Maitim II East.
Enjoy their Filipino food, with free appetizer and fruits. Try their vegetarian chop suey.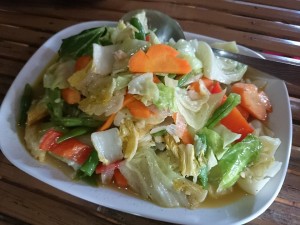 Buy some homecoming treats at Loumar's or Rowena's
Check out from the Hotel
Ride a Bus to Manila (2 hours with the consideration of traffic)
Note: If you can hire a van for two days, this would make your trip easier and you can still go to places in the area of Batangas which will showcase another historical place in the Philippines. You will see some old houses and churches in the area.
Share this post with your friends
By Christian Filipina - Click to Visit And Add Us Into Your Circles