I hope you've noticed and been able to make use of the 5-star ranking system that we have added to our system for your buddy list and other lists.
We've also been hard at work developing other new site features.  One of the main areas of focus has been a new look for the site.  You may remember that we came up with several designs almost a year ago, but we never settled on one that we felt was both intimate and professional enough to represent our community of members.  We want to give you a quick sneak preview of the design we are now implementing that we hope you will like.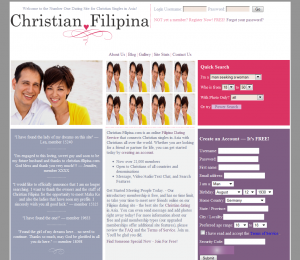 So, that's it on the right.  You can click the picture for a closer view.  The text of the pages will remain about the same as we have today.  What's different will be the layout.  For now, we've selected a professional photograph of a couple that we may use on the left side.  The images in the center, however, will be our featured ladies, just as we now have on our front page.  If you have a picture of yourself and your husband or wife who have met through our site and would like us to consider using your picture on our front page, please just send it to us, because we would rather use a picture of some of our members rather than a professional photograph.
Another thing we are working on is a change to the message system between free-level members.   We've found that there is a lot of abuse of our free-level message system, which has forced us to monitor an excessive quantity of messages in order to spot scams and other violations of our terms of service.  Due to this, we will no longer be allowing free-level members to write text messages to other free members.  Instead, free level members writing to other free-level members will be able to choose between pre-written messages that we store in our system.  Of course, any upgraded member will still be able to edit their own messages, and any free level member replying to an upgraded member will also be able edit their messages.
We welcome your comments about either of these new developments, which we hope will be in place within a few months (probably we will introduce them one at a time).
And of course, we always welcome your feedback on any aspect of our site: just click the feedback link at the bottom of the site's home page to write to us.
Share this post with your friends
By Christian Filipina - Click to Visit And Add Us Into Your Circles