Soon enough, you will meet a lovely Filipina online or in person and believe she may be the one. You will be pleasantly surprised, how natural it will feel to become friends and soulmates.
We strongly encourage you to plan as much time as possible, to get to know each other in person at this stage – if possible at least several months.
Most Filipinas are old-fashioned and will want to be courted and to have their friends and family courted by you.  If they are widows this will be less pronounced. However, for an unmarried Filipina it is vital. They like to be honored, appreciated and swept off their feet by the man of their dreams. They like to be sure that there is a future in it, and will want to have the positive reassurance from their family and friends that you are a quality man who will care well for her.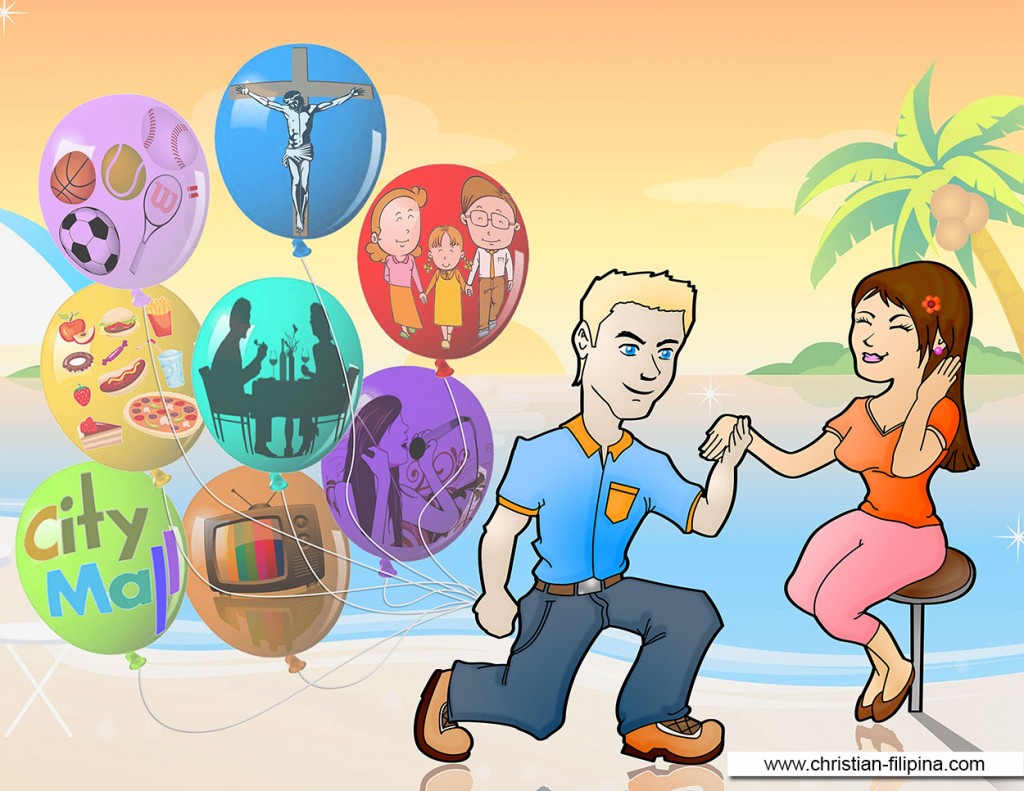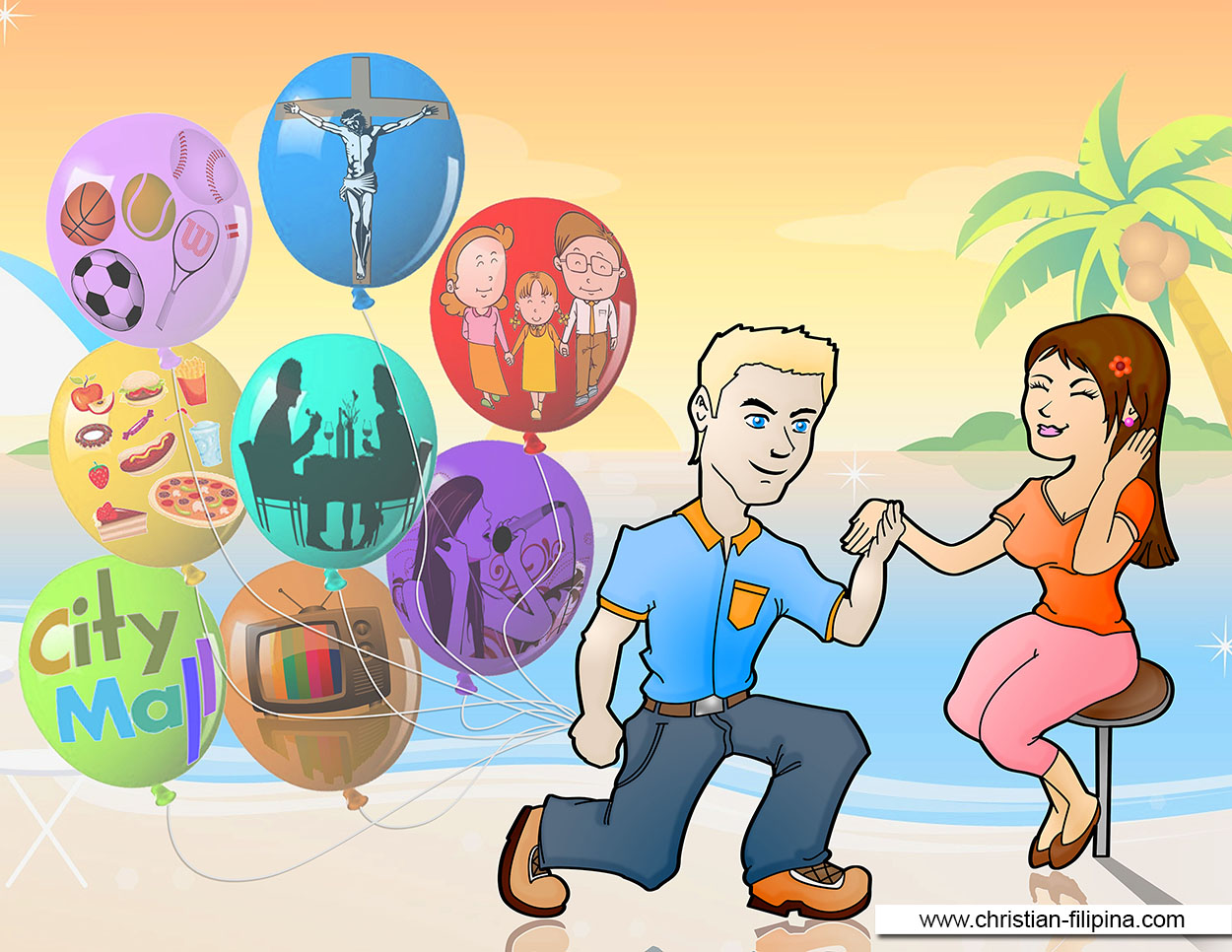 Here are some fun and effective ways to court her:
RESPECT
The basis of all courting to a Filipina, is that you respect her in every way. This means you compliment her, are serious about her, honor her, be unselfish around her, do not pressure her and treat her like a lady.
LONG WALKS
Filipinas love to walk and sightsee with her man. She enjoys holding hands and walking everywhere. She will even walk in the light rain with you. She just enjoys your companionship and having you next to her. She is proud to be with a foreign man in her own country.
MOVIES
The favorite films of most Filipinas are action adventure, martial arts, horror and science fiction. They get bored through long dramas and they many times do not understand the humor from different countries like the U.S., Great Britain and Australia. So, take them to a movie where there is a lot of action, suspense, scary scene, tae kwon do or karate and they will be smiling. Also, most of them love flavored popcorn.
TELEVISION
Filipinas love to watch television for a variety of reasons. It is escapist entertainment from financial problems, that dominate their personal and cultural lives. It allows many of them who want to learn English, to have an on-screen mentor. It can be a factual look at the world which intrigues them, because they are isolated on an island. It is colorful, raucous and joyful, especially the variety shows. The Filipinas will sing along and even dance with the stars on the screen. Watch television with a Filipina. It is a great way to spend an evening.
KARAOKE
Not all, but most Filipinas love to sing or watch their friends sing karaoke. They really get into it. It is incredibly charming to hear them croon their favorite songs in their unique dialect. One moment they are quietly sitting on a couch and the next minute they are expertly belting out tunes that make their hearts full of happiness. A duet would be great with you and your woman!
THE MALL
Several hours at one of the malls in the Philippines is a fun way to spend a day. From window shopping, to buying her something special, to eating and laughing in the Food Court to just sitting on a bench watching people walk by. They love their malls. They love clothes and shoes and make up and perfume and having a man around to enjoy it with them. Even if you don't buy anything expensive.  Make sure to get a snack for everyone, and one T-shirt or bra on sale is a great idea and sufficient. Believe it.
SNACKING IN THE ROOM
After a long afternoon or evening, one of the delights of a Filipina is to relax in the room with her man. Along with that, you can really make her smile if you stop off at a bakery or a produce stand and pick up ample supplies of her favorite pastries, breads and fruits. Let her sit on the bed, you take the couch and feast to your heart's content! She will feel spoiled and adored as she munches on seedless grapes, rolls, watermelon, cantaloupe and oranges. Throw in some cartons of fruit juices and you will make her really smile!
THAI MASSAGE
Want to make your beautiful lady feel special? Manicures, pedicures and hair styling will send her off the charts! She loves being beautiful for the man she is with and a trip to the beauty salon is a treat for her both in giving to you and receiving for herself. However, we also think this can be embracing an idea about appearances being too important, so we prefer the Thai massage.  For just a few dollars, you can both go to get a Thai massage.  Be sure to explain to the proprietor that you both want a Thai massage and that you need two ladies, one for each of you.  Thai massages are conservative (you wear pants and shirt) and everyone has a great, relaxing time.
THE BEACH
Filipinas are proud of their natural resources. Take her to the ocean and walk with her. Sit and watch the setting sun. Fill the conversation with compliments on how much you love the beauty of her homeland and let her talk for hours about her childhood growing up near the water. It will be one of the most intimate dates of your life, as you get to know the woman you court.
BBQ'S
A big table filled with food and drinks surrounded by family and friends all laughing and talking is a Filipina's dream come true. Your lady friend and those she loves really like to eat, party and tell jokes all evening long. One of the best dates of your life!
SIGHTSEEING
It's time to see the sights! From Ocean Park, to the zoo and everything in between, courting your Filipina means taking her places and letting her experience the joy of places, events and sights. Most Filipinas either work all the time or they stay home too much. Get her out there and watch her come alive!
ROMANTIC DINNERS
A main aspect of courting a Filipina is the romantic one. A Filipina loves to feel like a princess and swept off her feet. She loves the fairy tale. Dressing up and sitting in candlelight, touches her heart in the deepest of ways. Bring her a rose. Write her a poem. Look into her eyes and tell her beautiful she is to you. It is magical to her soul. She will never forget those moments with you in the beauty of those moments.
Now, for the three most important areas of courting her,
HER FRIENDS
Always respect her friends. If you criticize them she will not only be irritated or angry, she will see that as a sign of disrespect towards her. You don't have to like every one of her friends, but always let her know how you appreciate their importance in her life. Treat them to meals with the two of you. Include them in your courtship of her. Very important.
HER FAMILY
The time will come for you to meet her mom, dad and siblings. This also may include her aunts, uncles, cousins, nephews, nieces and grandparents. The family is the core of a Filipina's heart. Treat her family to dinner, especially her parents and siblings. Double date with her parents. Remember, you will not be marrying a Filipina alone; you will be marrying her family too. The more you get to know them and honor them, the more she will love you and trust you.
HER FAITH
The majority of Filipinas are Catholics, though many other denominations are growing quickly in numbers. Go to church or Mass with your lady friend. Show her you respect her faith and love for Jesus Christ. Find out what she believes and how strong her beliefs are in Him. Always support her even if there are some theological differences between you. Work them out if you love each other. This is the foundation of your love together so it is critical you bond here.
Courting is old-fashioned, yes. But, it is vital to winning the heart of the Filipina woman. I wish you the best in all that you do to build steps of honor and appreciation for the lady you may love forever. May the Lord be with both of you as your courtship reveals His will for your lives.
Share this post with your friends
By Christian Filipina - Click to Visit And Add Us Into Your Circles