Welcome, ladies, to Christian Filipina. I invite you to post your profiles here and correspond with our Christian gentlemen members.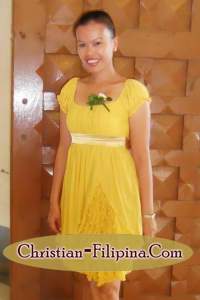 I'd like to offer you a few suggestions:
You are welcome to post a profile of yourself. Although you are not required to post a photo, it is certain that posting a photo will help your profile stand out from the many others posted on the site. We do require that photos be conservative and true pictures of you.
You are also welcome to fill out your complete online profile. When you are logged-in, you can do this by choosing "Edit My Profile" from the menu. Then, you can fill out the main page, and also use the blue tabs to select "Edit Additional Information". Don't forget to save your changes with the "submit" button.
Finally, you are invited to send winks and messages to other members with whom you would like to correspond. Don't be shy: just click send message and choose your message.
You may not attempt to solicit money through our message system.
If you have any questions or suggestions for us, please feel free to contact us with the contact form.
Share this post with your friends
By Christian Filipina - Click to Visit And Add Us Into Your Circles