Wives, submit to your own husbands, as to the Lord… Husbands, love your wives, just as Christ also loved the church and gave Himself for her… A man shall leave his father and mother and be joined to his wife, and the two shall become one flesh. – Ephesians 5
Like most Filipino culture, the institution of marriage in the Philippines was reformed hundreds of years ago to the then-modern standards of Spanish Catholic Law. Indeed, in Mark 10:9 Jesus states, Therefore what God has joined together, let not man separate. As a result, premarital chastity and lifelong-marriage took on increased importance in Filipino culture, and while in much of the world society has retreated from these values, the Filipino Catholic/Christian homogeneity has sustained their centrality.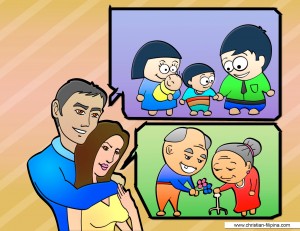 Consider this famous Filipino saying: Ang pag-aasawa ay hindi isang biro. Di tulad ng kanin, iluluwa lang kapag napaso. This means that being in a marriage is never a joke; it is a lifelong commitment. Anyone who enters a marriage should continue believing that their relationship is always worthy of holding on to. No matter what the circumstances and obstacles are, letting go of one's marriage should never be an option. A struggling couple should exhaust all options attempting to maintain and reinvent their bond, because every marriage is worth fighting for.
These Filipino and Catholic principles are the primary reasons that divorce is one of the most controversial and sensitive topics discussed in the Philippines. Currently, there are no laws allowing divorce in the Philippines because legislation of any law regarding divorce has greatly been disapproved by the Filipino community. While the Philippine Congress had been trying to pass divorce bills for the past 10 years, it remains impossible to dissolve a marriage via this avenue.
However, while the Philippine laws do not allow divorce, the Family Code of the Philippines allows Annulment and Legal Separation for unworkable marriages.
Differences Between Divorce, Annulment, and Legal Separation
Divorce is a court order saying that a man and woman is NO LONGER husband and a wife.
Annulment is a judicial statement that THERE NEVER WAS A MARRIAGE between the man and the woman. It is the cancellation of marriage as if it never happened. This cancellation is done by the court invalidating the marriage from the date of its formation (retroactive application).  Example grounds for annulment: absence of parental consent, mental illness, fraud, lack of consent, and certain diseases.
Legal Separation is a decree that gives the husband and wife the right to live separately from each other. Through this decree, the conjugal partnership of properties or the absolute community of properties is dissolved. However, the man and woman are still considered married.  They may not remarry.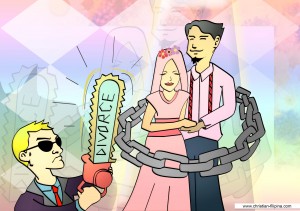 Marriages Between Foreigners & Filipino Citizens
Because many countries do have divorce laws, Article 26 of the Family Code of the Philippines states that when a marriage between a Filipino citizen and a foreigner is validly obtained abroad by the alien spouse allowing him or her to remarry, the Filipino spouse shall have capacity to remarry under Philippine Law as well.
Summary
While there are procedures to dissolve a marriage, it is culturally expected that the husband and wife should exhaust all other efforts and alternatives before resorting to divorce or annulment.  Among the alternatives are: counselling, mediation, communication, both in a church or civil setting. As much as possible, every Christian is still expected to honor the sanctity of marriage no matter how difficult the circumstances may be. Marriage is a covenant that should be filled with love; it is not meant to be abolished.
References:
http://history101.multiply.com/journal/item/214
http://deborjalaw.com/2009/04/11/philippine-annulment-top-ten-10-questions/
-
Remember, that our advice is anecdotal and is not official legal advice.  We cannot guarantee the accuracy of this information.  It does not constitute a legal arrangement between us and you.  We are only presenting the results of our research, and you are fully responsible for how you use this and any other information.
If you are interested in a free report on immigration visa tips, please request it via our Filipino Visa website, which is part of our trusted and award-winning service Christian Filipina.

Share this post with your friends
By Christian Filipina - Click to Visit And Add Us Into Your Circles