We applaud Jim (probably not Jim's real name) of the Marriage Agency Scams website (http://marriageagencyscams.com) for some of the expose work detailed on his site, such as the women who are being recruited and paid to write emails to men on Russian dating sites.
For a time, we were in correspondence with Jim and rightfully complimented him, about some of what he had written.  On the other hand, we were not as forgiving of his advertising some of our competitors, who we believe are engaged in fraudulent business practices.  Jim stopped corresponding with us.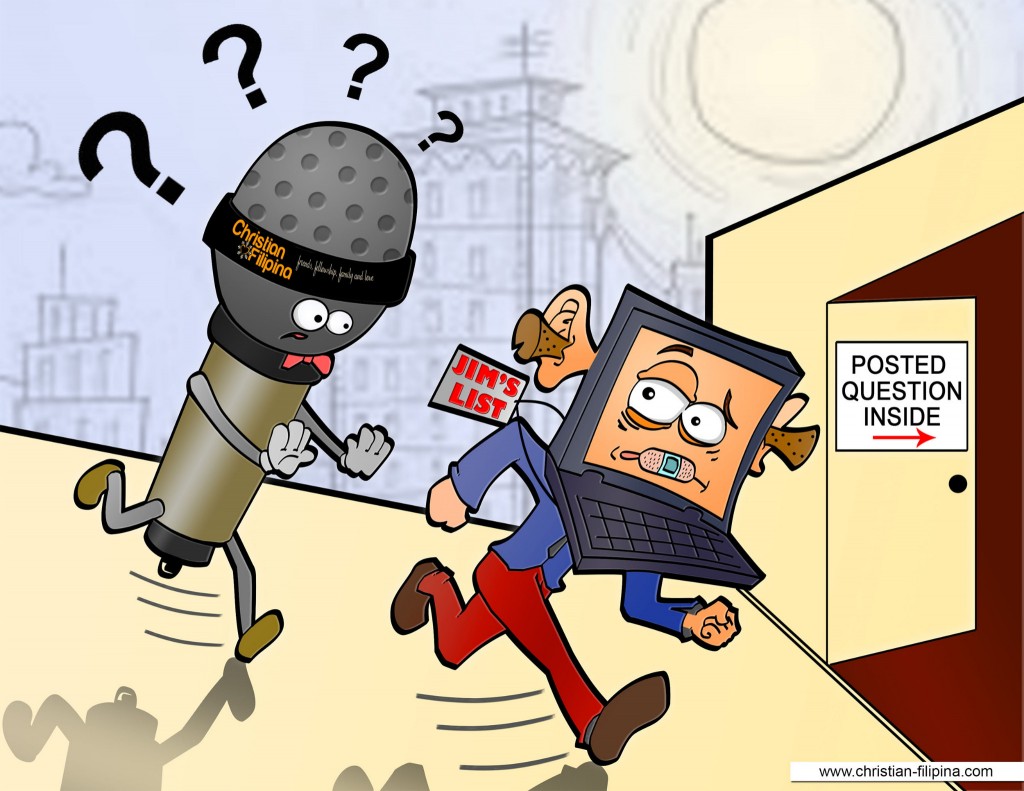 We sent Jim the following interview questions, and he has not answered these questions.  So we are just posting the questions here. Perhaps in the future at some point he will answer, and we will post his answers here.
One thing about Jim's Lists including the Gold List and his advertisements – like most online dating review resources, most of Jim's listings seem to be affiliate deals, where he takes a cut of the profits of the companies he features.  Maybe that also has something to do with it.  Or maybe this post explains some of the background.
How did you first become interested in investigating the integrity of international dating businesses?
Did you immediately decide to publish the web site about it?
How many visitors do you get a month now?
Is being webmaster of this site, now your full-time job?
Are you married to a lady from abroad?
I first found your site when we were doing background research concerning an article I wrote, based on the horror stories I had heard from many of our members past experience on other dating sites. Yet the ironic thing about it was that although your site seemed to be based on careful analysis, you were recommending one agency that had been specifically mentioned by one of our members as a complex scam involving pay-per-letter fees. Are you aware that some of the sites on your recommended list are using pay-per-letter fees, and do you think that's OK?
Have you read the posting at complaintsboard.com and others about agencies you recommend, that are using per-letter fees?
How much experience do you have with Asian dating sites?
Have you become aware of the quantities of men, who are now defrauding women on Asian dating sites?
We are proud of what we have done to minimize this: we screen every new profile and upgrade, we notify our ladies of the cautions they must employ, we post examples of actual scams, and in the rare cases when a scammer manages to infiltrate and briefly trick us and send letters to the ladies, we immediately send an informational letter to all female members of the site who had been contacted by him, notifiying them of the scam. Are you aware of any other sites, who are taking similar measures to protect their ladies from this new phenomenon?
Do you still recommend to men and women to use international sites to meet one another?
Do you have any other sites aside from marriageagencyscams.com, that you would like us to reference for our members information?
We still think his website is worth reading, especially to learn from pages such as these:
http://marriageagencyscams.com/scam-marriage-agency.html
http://marriageagencyscams.com/Why/model.html
http://marriageagencyscams.com/Why/ukrainian-marriage-agency-scam.html
http://marriageagencyscams.com/Blacklist.html
However, some of it has to be taken with a grain of salt, as he seems to be not quite independent.
Recently we noted some new text on his page http://marriageagencyscams.com/journalist.html:
I am being sued. I am being hunted like a dog. I am scared for my life. I need to protect myself. I have all the proof I need to defend myself, but no way to do it.
I need a lawyer. I have no money to pay for a lawyer.
If you know a lawyer that can help me for free or for VERY little money, please have him contact me.
And as much as I hate to do, I need to ask for donations.
I have received thousands of offers for donations over the years. I have NEVER taken any donation.
But now I have no choice. I need help.
Contact me if you can help.
When my proof is shown in court, the door will be open to bring down ALL 3 agencies.
Any help you can offer, I will be EXTREMELY thankful.
Thank you for reading.
ANYTHING that you can help with will be greatly appractiate[sic]. NO donation is too small.
Thank you.
Send me an email so I can thank you personally.
Well, we at Christian Filipina would be happy to advertise on Jim's site.  We offered him the chance to advertise before, replacing his current advertisers, but he turned us down.  We are also happy to help publicize his site and any related legal battles if there are really any legal issues.
We would be happy to publish his answers to our interview questions as well.
However, we strongly suggest that he do some more in-depth research on some of the sites he is advertising and stop supporting them.  Unfortunately, what we have heard from our members regarding their past experience, backs up the anecdotal research that anyone can do by search for the names of the agencies he is advertising and reading the customer reviews.
Share this post with your friends
By Christian Filipina - Click to Visit And Add Us Into Your Circles