If you're planning a trip to the Laoag area and you've got about four days to spend, then this itinerary may be just the ticket!  From sand dune adventures, to historic sight-seeing and great eats, there's plenty to do in the area.  In fact, four days really isn't enough to do this beautiful region justice, but here are our suggestions for some "can't miss" places to check out even if you only have a short time to visit.
From the Airport to Downtown Laoag
Get out of Laoag Airport to the City proper – There is a Jeepney that brings passengers from the airport terminal to the city proper, Fare is 100 pesos.  Or ride the FREE shuttle bus and they will drop you off at the corner of Texicano.
Texicano Hotel, Laoag City
Address: J. P. Rizal Street, Laoag Ilocos Norte
Room Rate: Starts at 310 pesos for a single fan room
Contact Details: (6377) 7705776
Notes: Do not expect too much as this is a budget hotel
Sand Boarding and 4×4 Ride in La Paz Sand Dunes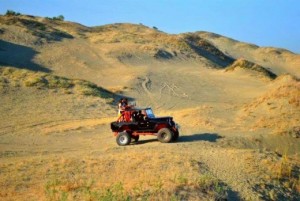 Rate: 2,500 pesos per group of four
Contact Details: 09088853669 look for Glenn Guererro
Notes: Package is for 1-hour sand boarding lessons, good for four persons. It also includes the 4×4 jeepney transportation to and from the sand dunes. Make an arrangement if you will be doing it solo.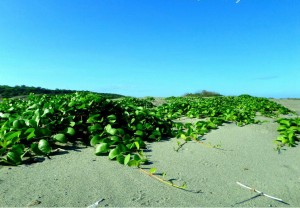 How to get to Paoay from Laoag – Rent a tricycle in the city proper for 250 pesos (it is more economical since some destinations in Paoay is not on the national road), going to and from Paoay to visit the Church and Malacañang of the North, which are both located in the town of Paoay. Travel time is around 30 minutes.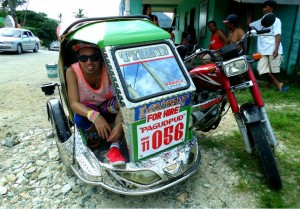 Another alternative is to take a Batac-Paoay jeepney. Fare is around 30 pesos.
Arrive at Paoay Church
Paoay Church, a UNESCO World Heritage Site
The St. Augustine Church or popularly known as Paoay Church is one of the oldest churches in the Philippines.
Malacañang of the North and Paoay Lake
Entrance Malacañang of the North (40 pesos)
Lunch at Dap-ayan Ti Ilocos. It is like a food court / fast food where there are stalls offer a variety of food choices. Here, you'll find the famous Laoag empanada and inihaw na longanisa.
A Walking Tour Around the City of Laoag
Laoag City tour – Ilocos Norte provincial capitol – Located in front of the Capitol building, the Aurora Park is where the statue of the maiden Pamulinawen – where the Tobacco Monopoly Monument was erected in 1882 – left of the park is the Laoag City Hall
St William's Cathedral & the Sinking bell tower - Walking towards the street on the right side of the park will bring you to the St. William's Cathedral
A few steps away to the left of the Capitol Building is the Museo Ilocos Norte.
Entrance to Museo Ilocos Norte (30 pesos)
Trip to Pagudpud Beach, "The Boracay of the North"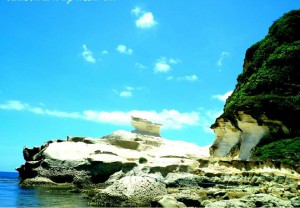 Arrive at van/bus terminal for Pagudpud 2.5-3 hrs travel to Pagudpud
Fare, Laoag-Pagudpud (van)(70 pesos)
How to get to Pagudpud from Laoag – Take a bus or van bound for Claveria Cagayan, it will pass by the town of Pagudpud, which is the last town before reaching Claveria Cagayan. Travel time is 1.5 hours.
Arrive at Pagudpud, check-in at Cathy's Home Stay
Cathy's Home Stay, Pagudpud
Address: Brgy. Saud, Pagudpud Ilocos Norte
Room Rate: 800 pesos, good for 4 persons for an air conditioned room.
Contact Details: 09195716680
Notes: One of the cheapest accommodations in Saud Beach, Pagudpud.
UDDON'S HOMESTAY (Pagudpud)
Price: Php 350/night
Contact Details: 09202859087
Explore the beach
Dinner by the beach NOTE: Better buy food from Jollibee or McDo
Here is the list of the activities you can do to appreciate Pagudpud.
Swim and surf in the breathtaking Saud Beach
Traysi tour of Pagudpud for P600.00
Thirty minutes trek to majestic Kabigan Falls
Stopover at Patapat Viaduct with blue skies and blue sea waters as backdraft
See Bantay Abot cave, where waves hit the cliffs
Drop by Agua Paraiso, where waves hit the rocks
Enjoy huge wave and white sand in pristine Blue Lagoon (Maira-ira beach)
Witness Pagudpud sunset
Visit Bangui Wind Mills, Bojeador (Burgos) Lighthouse, Curimao, Laoag, Paoay and Vigan
Wake up and early morning walk by the beach
Breakfast
Swimming
Tricycle to and from Pagudpud town proper (20 pesos)
Check out from the Homestay
Brunch
The Windmills, Rock Formation, Lighthouse and the Church
South and North Pagudpud Tour (Tricycle)
Rate: 1000 pesos per tour
Contact Details: 09208532047 look for Kuya Rene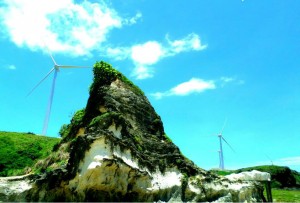 South Tour includes Bangui windmills, Kapurpurawan Rock Formation and the Cape Bojeador Light House.
North Tour usually includes Kabigan Falls, Bantay Abot Cave, Blue Lagoon Beach, Patapat Viaduct, Paraiso ni Anton and Aqua Grande. The town of Adams is also worth a visit if you have more time.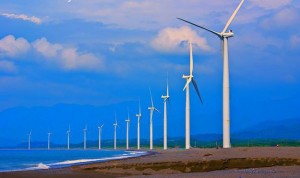 Arrive at Bangui Windmills
Officially referred to as the North Wind Bangui Bay Project, it is a major source of renewable energy amounting to 40% of the power requirement of the province. Boasts to be the first wind farm in the Philippines and biggest in Southeast Asia, it is consisted of 20 wind turbines on-shore facing the South China Sea.
Off to Burgos
Arrive at Kapurpurawan
In Ilocano, "Kapurpurawan" means "white" – which describes the radiant and sparkling shade of this rock formation. It is a hill of white limestone rock created by forces of the wind, water and waves coming from the ocean – truly, an amazing work of nature. Adjacent to the rock formation is the ocean, which added to the breathtaking sight.
The Kapurpurawan Rock Formation in Burgos Ilocos Norte really really Rocks!!!
Arrive at Cape Bojeador
A cultural heritage structure built during the Spanish Colonial period. Octagonal in shape, it is set high on Vigi de Nagparitan hill overlooking the picturesque Cape Bojeador.
Off to Vigan (Partas)
Check in at Casa Teofilo Loge
Casa Teofile Lodge
Aircon for 2(24hrs.) – Php500
Contact Details: 09326740438 Landline – (077) 7226482 / (077) 7222547
Aircon Rooms with private cr, cable tv and free wi-fi.
Grandpa's Inn
A cheaper option that doesn't sacrifice on rustic ambience is Grandpa's Inn.
It is a Spanish ancestral home converted into a cozy hotel with rustic ambiance, great customer service and delicious food. And starting at PHP 650 for a double fan room (common T&B), it's one of the best values in town!
Contact Details:+63 77 7222118
Henady Inn
For those looking for basic accommodation, check out the newly-opened Henady Inn, located along the National Highway in Bantay, next to the Caltex Station and just right across the Vigan City Arch. The town center is just 15 minutes walk away, or you can take a short tricycle ride.
Contact Details:+63 77 7228001 or +63 9175158001
Rates start at PHP 200/person/night for a fan dorm room. Private double rooms are great value at PHP 600 with A/C, CATV and toilet.
Night Strolling at Crisologo Street
Start strolling at Crisologo Street. This major attraction of Vigan is its mestizo district which is filled with Spanish-style houses that evoke a bygone era when its people lived prosperously because of the Manila-Acapulco maritime trade.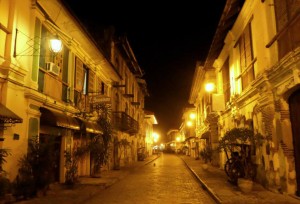 Though a trip to Calle Crisologo is enjoyable during the day especially because of the opportunity to shop for Vigan's best products (antiques, abel woven products, bags, basi wine, burnay and dimili products, chicharon, jewelry, sweets, Vigan vinegar and woodcrafts) in the inobtrusive shops located in the ground floor of some of the grand houses, a walk through it is magical at night.
Try some of the local food like bagnet mixed with pinakbet and their famous longganisa
Café Leona Dinner (300 pesos)
Café Uno Breakfast (100 pesos)
see  Crisologo Street, Hidden Garden and Baluarte plus the Vigan old church.
Crisologo Street – Crisologo Museum – Syquia Mansion – Plaza Salcedo – Burgos Museum – Pagburnayan Jar – Hidden Garden – Baluarte ni Chavit – Bantay Tower – Casa Teofila Lodge (100 pesos)
Vigan Baluarte ni Chavit
It's 80 hectares of terrain, hills and mountain sides that serve as natural habitat for Gov Chavit Singson's personal collection of wild animals
Vigan River Cruise (100 pesos)
Boats used in the cruise are like those small wooden fishing vessels used by many ordinary Filipino fishermen called "bangka" in Tagalog. Each boat has outriggers for stability and safety of riders, which is good for rough river. But don't worry, the Mestizo River is calm all the way.
Vigan Heritage Village (100 pesos)
After enjoying the cruise, it's time to get to the "Vigan Heritage Village", the only colonial town in the Philippines and for which Vigan is known.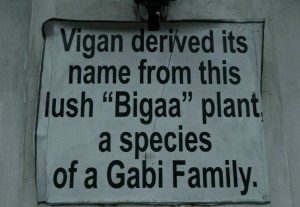 Vigan to Laoag 1.5hrs
Share this post with your friends
By Christian Filipina - Click to Visit And Add Us Into Your Circles