Here are some letters written by a scammer, who had created a fake male profile and identity with the name Thomas Lenner (email lennerthomas@hotmail.com).
His goal? To trick women into sending him money. If you ever come into contact with anyone like this on our site, let us know. You can also add in the comments any experience you had like this anywhere on the internet. Notice how after ten days of "I love you" form letters, it all really comes down to asking someone to send the scammer (or someone in coordination with the scammer) money. There is no real Thomas Lenner, of course. It is all one big romance scam.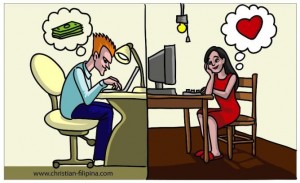 Sent:
January 21
I am a sincere, committed, understanding, passionate and affectionate dedicated gentleman and i desire these qualities from a woman also, i hope that contacting you would be one of the best decisions i have made in my entire life, all i seek and desire is a true, kind, honest, committed, understanding and affectionate woman who would love me for who i am and be by my side all the way by supporting me. I hate lairs and cheat and i hope you would not do any of that to me, i promise to give everything to make sure that things go well between us and we have a great relationship that would last.
I am on duty now, my break is over, when i get off duty later i will write a well detailed letter about myself and my life so you can truly get to know all about me and my life, i would also love to know all about you and your life also, i feel this is the best way for us to start a relationship, i hope and pray that this would really workout, i have butterflies in my tummy right now because of this, i am really excited that you are willing to get to know me better and build a unique and great relationship, thank you for giving me the chance to prove myself to you. I promise never to let you down.
Sent:Wednesday, January 23
Subject:ALL ABOUT ME
I am a US Navy Seal officer, i joined shortly after i left college and i am currently a Sergent with Naval Special Warfare Group 2: SEAL Team 6 , i have been on duty and missions in several countries around the world most especially in the Middle east where the United States have been fighting a huge war on terrorism for decades, my last mission which was providing support for the SEAL Team 6, which captured Osama Bin Ladin in Pakistan last year.Currently i am on another Duty in Africa where another threat of terrorism is evolving and political uprising across the continent. We are here just simply to give Logistics and professional support to our African counterparts because the United State is a world leader against war on terrorism and having its citizens all across the world in these countries makes it imperative for us to be here. I have just being relocated away from Libya, where i have been for several months working with the NATO forces. Since the death of dictator Muammar Gaddafi and the capture of is son Saif al-Islam Gaddafi , i have been posted to Nigeria where there is another treat of terrorism. You would recall that sometime 2 years ago the United Nations embassy in Nigeria was blown up and this has made it necessary for the United Nations headed by the US military to act immediately to curb this new treat, which is growing each day in the country with so much more numerous assault that has been taking place in the country on innocent life's since then.
I am of Dutch and American descent, my father was Dutch and my mother American, my father was in the Dutch Navy and my mother ran a bar for her parents in Hawaii, they got to meet on one of my father's journey to America with the Dutch Navy on a training mission. My mother moved to Holland some few years later with my father and i was born, After my father died during a mission in Asia with the UN forces, i am my mother moved back to the US. Where i attended senior high and college before joining the US Navy Seals following in the footsteps of my father who was a Navy official in the Dutch Military. He was my hero and i had lots of admiration for him and i have always been fascinated about the Navy and i have always aspired to become one.Well like i said on my profile, I am widowed and have a daughter Ashley who is 13yrs old , she is one bright, sweet, lovely and understanding child. I am 51 years old I was born February 10th, 1961. I have never been on any dating site before, my daughter signed me up for this because she wants me to be happy and not be lonely again. She misses me a lot because i am not always around for her, she has been living with my mother since she was 7 yrs old just after she lost her mother. She looks so much like her mother and she reminds me of her, her mother was the best thing to have ever happened to me in my entire life, she stood beside me and supported me all the way, we shared so much together and i have never seen or met any woman as honest, trustworthy, caring, kind, affectionate, committed, understanding and supportive as she was. She gave my life so much meaning, when i was down, depressed and injured on several occasions. She was always there for me while i was away on duty or missions , she kept constantly in touch and made me always look forward to coming back home she understood perfectly as well as the nature of my work and she gave all her best for me. Its been so many years now and i tried not to get involved with another woman because i felt i could never find someone like her and got myself occupied with my work, by volunteering for missions and staying with the Navy Seal team constantly, but i have come to realize that i have to move on and give other people chances to prove themselves worthy of my love, time and affection as well as proving myself worthy of her's too and to show her that i am a very loving, nice, sweet, hardworking, committed, affectionate, romantic and dedicated person, who just want to be loved 100% and to give back 100% love.
I want to have a family again because that's the most important thing in life, its being 6yrs since my wife died and i really want to experience and share that family love again, its a beautiful and wonderful thing, my daughter wants that so much also and what she did by putting me on the site was touching, its been 6yrs i last saw her in person and with the current mission at hand it looking like another year might go by without being with her unless i get a vacation request from a family member or close associate and my daughter is too young to apply that for me, while my grandmother is too old to move or do all that, they both leave on my salary which i did ask the US Navy department to be sending a percentage to them monthly, my daughter is in a Catholic boarding school and my mother stays home all the time, they are the only two relatives i have left in this world and they mean everything to me. I only have a picture of my daughter with her mother when she was 6yrs old, it has been with me on all my missions since then as a reminder of them both. My daughter has made several attempts to send me recent pictures of her but i told her i would like to see her in person rather than a picture, i know she would be so much different now, i would like to see her that way.
I look forward to know you a lot more about you, hoping that you appreciate my taking time to give you so much details and insight into my life which in a way can be seen as compromising my work ethics and code of conduct. I have never been this open to anyone i don't know in person before. I only did this so you can know how sincere and serious i am with and how far i would go for the right woman and the scarifies i would make, even though i might not see you in person until we eventually meet. I am only sorry but for now i would only be able to communicate with you via e mail until i get back to base as i am currently in a safe house on a surveillance operation on the suspected terrorist. Please understand that this is how much i can tell you more about my current mission, as any further alteration can be seen as sabotage or felony.
I look forward to hear from you again and i would really appreciate if you take time out and write very detailed story of your life also as i have done, your experiences including your past relationships, affairs and marriage, your current status, believes, hopes and desires. Do you have kid(s), i am not sure about having more kids but if you are its okay by me, Your occupation, whats your date of birth, favorite color,etc. All i simply desire is true love, someone that would love me passionately and unconditionally with all her heart and someone that would support me all the way), How long have you been on the site and people you have met before as well as your experiences with them and most of all what you think about my personality with my explanation and if you do understand my desire as well as my passion and willingness to give us a chance by going down the road with me. I appreciate the fact that you are willing to commit to me alone from now on and because of that i will like you to delete your profile from the site immediately in order for me to feel secured and trust you on that. I attached some of my pictures to this mail and i hope you like it, please send me pictures of you too.
With true and sincere Love,
Thomas
January 24
Hello dear, thank you for sharing some details about yourself with me, though i would have hope you had writing much more, which i still believe you would do in time as we get to learn and know much more about one another. You have been on my mind all day after reading your e mail and i feel so lucky and blessed to have you in my life now, like you already know i took down my profile from the site just for you, you can check to verify that, it is my way of showing to you my trust, dedication and commitment, so that you would know i am not in touch with anyone except you and that you can trust and rely on me with all your heart and i promise never to let you down and do everything in my possible best to be the one you desire and the man of your dreams. I sincerely appreciate you too doing the same, i believe that's the best way to start and that's to be focused on one another. I wrote to my daughter and mother last night just after exchanging mails with you, i told them about you and my daughter was really happy, she is because she was the one who signed me up on the site and she is happy that i have finally met someone after all this years, they are so happy for us and they asked to see your pictures, by the way i love the pictures you sent they really look beautiful, they both send their greetings, love and affection to you. I hope you also had a good day because mine was fantastic especially having the thoughts of you in my head all day, i kept smiling all day and my colleagues noticed the happiness and joy on my face and they were forced to ask me what was going on, i shared with them the news about meeting you and i told them that is why i have been so so happy and filled with so much joy and elation, they all feel so happy for me also and sent their greetings too you also. Sorry we are not allowed to appear on web cam and disclose some information about ourselves in my line of work, i had explained all this to you in my e mail all about myself, it is a risk because we are involved in very secret and classified mission, please you need to understand that my work is a life and death situation, i have no choice so you would have to bear with me on that, that's why i sent you pictures of my self, hopefully someday soon we would meet in person, but as for now, just like we have both agreed, we should focus on making the best out of this and build a strong, successful and our dream relationship based on our communications so far. I hope you would have a wonderful night rest and please do not stress yourself too much at work. I look forward to hear from you soon again, cant get you out of my thoughts now. I printed out your picture and put bedside my bed side along with my mother and daughter's own so that whenever i wake up your face is the first i see and before going to bed at night it would also be the last, i also printed out a small copy which i put in my uniform pocket and carry about with me so where ever i am and i think of you, i just bring it out and look at your face and smile, i show it to my colleagues here also so that they can see my new found love.
With love,
Thomas.
Sent: Friday, January 25
Thank you so much my new found love for you commitment, understanding, love and support, it would really means a lot to me to know if you have deleted your profile from the site, yes i look forward to we having a relationship that others would envy, something great and unique that we both never envisage or expected, that's the way life is at times, most times the best things that happens to us a are unpredictable just like our new found love, now i wake up everyday with a smile on my face just looking at your picture, i have found this inner peace and extreme joy because you are a part of my life now and i am grateful to the lord that he has brought us together, now i pray everyday that he should give us the strength, determination and commitment to see us through, the heart to tolerate another and desire to support and encourage one another in times of need, you are my all in all now, my angel, my heart beat, i feel lucky and blessed to have you in my life now, i cant wait to share the rest of my life with you, i am so excited, i want to settle down with you and start a new life and family, you are my dream come true, thank you for bring this much joy into my life, the distance and time constraint between us would not stop or hinder my already found and sincere love for you, i promise you that and i promise to love you unconditionally from the bottom of my heart always and support you morally, financial and emotionally as long as you do the same as i believe that true love is all about 100% give and take. I look forward to hear more from you.
Sent: Sunday, January 27
Subject: RE: MY HEARTBEAT!!!
I find strength and hope in your very sweet, strong, lovely and emotional words all the time, sometimes i feel like this is all just a dream, i never believed or imagine i can come across such love like this through the internet, you have taken away all my fears and worries, i feel like a better man with you, knowing that i have you now in my life, brings me hope and confident that tomorrow would only get better, knowing you more each passing day is like a seed that is being planted and grew with each letter we exchange, you are my knight in the shining Armour, my sunlight, my hope, my love, my strength, you make life seem to me like a fairy tale, i wonder where you have been all this time, now my desire to meet you and spend time with you in person keeps growing stronger…………… WHERE HAVE YOU BEEN ALL THIS WHILE "SWEETEST ONE"??????  I am just grateful to the lord that he kept you strong and hopeful for me, if you had giving up due to your experience and your past i might not have met you, but now here you are with me, giving me the best times of my life.
Sent: Monday, January 28
Subject: Hello Honey
Hello Honey, ( I hope i can start calling you that from now on?) because that's the way i feel about you now. I was so happy to open my mail and get a message from you. I have not been sleeping in recent nights because i am filled with so much joy, anxiety and excitement knowing that you are a part of my life now. Thank you once again for accepting me and making me a part of your life, its really a pleasure to have a wonderful woman such as you in my life at this moment. Thank you for your commitment, prayers, honesty and affection, it really means a lot to me. I have made up mind mind even before joining the site, that is the reason why i decided to seek for my true love and soul mate, its one of the reasons i agreed with my daughter to join the site and search for a true, honest, committed, loving and supporting woman, i want to believe i have found that woman in you.I know that when it comes to relationship, its all about give and take and making sacrifices as well, that is not difficult for me to comprehend and understand because i have once had love and know what it means to be in love and in a relationship. I have mentioned all this in my past e mails to you. I want you to know that i am willing to relocate and change job to be with my woman. Aside for the fact that my job is risky, i also do desire to have a family now and be with my loved ones, family is very important to me, and not being with my mother and daughter for some years now and seeing all the hardship other people across the world where i have served goes through makes me realize even more the importance of family. I want to have and share that love again and be with my loved ones, that brings joy to the heart and inner peace which i believe you would agree with me.My job is tasking and risky so, i have also have the plan of someday settling down with a woman and having my family with me. I know i would have to get something to do to support my family in other for us to have a good life. Though i do not have any special skill or have much experience in any kind of civil job, i believe with the support and experience of you we could be able to figure out something or maybe i support you in your work or we could start a business, that is why i have asked the US Department of Navy which i am serving understand to keep my commissions and salaries during all this time i have been serving in a special account for me, so when i am been discharged or i have anyone apply for a leave for me so the money can be paid out. So what do you think about that?I thought it would be wise to let you into my plans from now, so if you have any contributions of you know a work we can do or business we can invest in let me know. I have no problem to relocate to country with my mother and daughter to be with you, we can start a whole new big family there with yours. I am planning to buy a house and a car as well for us all to stay in.I want you to know that i accept them as my own children too already now and all i seek, want and desire now is for me to have a family and you around me. my daughters birthday is four days after mine, so our birthday is coming up soon and it would be wonderful to share and spend those two special days of our life's with you, as it would mean a lot to me and her, i wrote to her about this and she really thinks that would be great and wonderful, especially now that the summer holiday is just around the corner. I attached her picture and my mother's to this e mail so you can see what they look like, i hope you like it?  Here is her e mail too  (cinderelabarbie1998@gmail.com) , you can write to her yourself so you can get to know her more personally, she is such a sweet and loving girl, i bet you would like her, she call you mummy already and talk about you to everyone she knows there, i had already sent her your pictures before.I am currently trying to speak to my commander to allow me use use of a mobile phone sometimes because i need is permission to as we are not allow such here while on mission, i hope and pray he does allow me because i really also want to hear what you sound like, *you know putting a voice to your face that i look at almost every time of the day here now.I hope you have a great day and a wonderful day.
With love you, new found love and you sweetheart.
P.S I told the Chaplin here at the barracks church about us today and asked him to pray for us and our relationship, everyday and night i pray that this relationship becomes successful because i believe now that i have found the right woman who i have spent all this time keeping myself for.
I LOVE YOU…..xoxoxoxo.
Sent: Wednesday, January 30
I would sure love for us to build a great future and home together that is why i am committing everything i have into this, i hope that you would put your own 100% heart and commitment into this as well because it is you who would start it all by beginning to apply for my vacation for me as it is your country i am coming to and my mother is very old and in an elderly peoples home where she is been taking care of which would not also let her be able to come with me and Ashley, my daughter is also very young and underage to apply for it and she has no income to pay for the charges, i would write more to you letter explaining more on how to go about that for you. I am also glad that faith and destiny has brought us together and we both did not give up on love that is why we are together now, we share almost similar stories and now that we have found one another it is only natural for us to be in love, i am also very happy that we are getting the support of our children i look forward to see you soon and spend the rest of my life with you, sharing and expressing all the fire of love burning within me with you. Thank you for showing commitment towards my plans and that you are willing to play your part to make this come through.
I have got good news for you, My commander as allowed me to use one of is mobile phones to keep in touch with you once a while and for sometime, he knows about you and know how much we do care about each other, he knows what love means to a man and he can see how much i love you, he said i have been a very good soldier since i was posted to work under him and that he promise to support us in every little way he can to make our relationship successful, he is a very good and understanding man, here is the number (+2348172580873) Please call or text anytime you can. I will look out for your call, if i am not busy i would pick up. Have you had time to write to my daughter? I hope you liked my daughter and mother's pictures i sent to you.
knowing that i have a woman like you in my life give me reasons to look forward to everyday hoping to hear from you and be with you someday soon, you bring some much joy to my heart that i never felt i would come across again, your words give me strength and hope because it carries a lot of passion in it, and i can see as well the enormous love you have for me also from every single word you write to me. Sometimes i just sit down and pinch myself because this still seems like a dream to me. Honey if this is a dream i do not want to wake up, i want to continue to keep loving you and spend the rest of my life with you. You are all i seek and desire, everyday i pray that this love should get better and the lord to keep us both safe and in good health till we meet, i am hypnotized by your love and affection for me, you are the best thing to have happened to me.. I want to say Thank you a million times, i pray and hope that you would not disappoint me or let me down, hoping that you would always love me and be there for me at all time and support me, commit. I put all my trust and love in you, please do not let me down, i am scared and i can kill myself if you do, please do not cheat on me or lie to me, you are my world and my life. I can not wait to be with you. I hope you have written to our daughter Ashley as she would sure love to hear from you.
I love you so much my Angel
Look forward to hear from you again.
Sent: Thursday, January 31
Subject: RE: i love you
Hello honey, thank you also for the support of my plan and your commitment, understand and trust, all i want to do now is be with you, that is why i am willing to put all my life investment in our new found family and come live in your country with you, it is not an easy decision, but i want to prove to you that i sincerely love you and i want to spend and share the rest of my life with you, i don't just want to sit at the other side of a computer and tell you how much i love you, i want to be able to hold your hands, look into your eyes, say i love you and kiss you. I feel lucky and blessed to have you, i believe it is faith and destiny that has brought us together.It is you who know your country well and the kind of business that you have some experience in that we can invest, that's why i asked for your opinion and i agree with what you decided on and that's what we are going to do, i would sure love for us to build a great future and home together with you that is why i am committing everything i have into this, i hope that you would put your own 100% heart and commitment into this as well because it is you who would start it all by beginning to apply for my vacation for me as it is your country i am coming to and my mother is very old and in an elderly peoples home where she is been taking care of which would not also let her be able to come with me and Ashley, my daughter is also very young and underage to apply for it and she has no income to pay for the charges, i would write more to you letter explaining more on how to go about that for you. I am also glad that faith and destiny has brought us together and we both did not give up on love that is why we are together now, now that we have found one another it is only natural for us to be in love, i am also very happy that we are getting the support of our children i look forward to see you soon and spend the rest of my life with you, sharing and expressing all the fire of love burning within me with you. My birthday is Feb. 10th while Ashley is 14th,, i hope you can start making the application now so we can be able to make it before then to join you, so we can spend the two most important days of our life's now with the most important person in our life now.I have explained to you i am in an active duty a mission, so i can not be let go by the Navy just like that because i am here for work and i have been here a while. I am not just an ordinary person on a vacation in another country that i can leave just like that and anytime i want, i am a soldier and for me to leave, there are procedures to follow, i have told you that it would require you to make a vacation application on my behalf, you would have to write to the department of navy yourself which i would give you there e mail to do so. then they would reply you and ask you some questions to make sure you know me and they would send you documents to fill and complete, because just like i have also told you, every officer going on vacation is entitled to get a vacation allowance of about US$35,000 which is a whole lot of money, it is because of this that all these procedures are necessary because any officer can just decide to leave any day and ask to get the money, but it doesn't work like that they try to screen and scrutinize people who are making the application and the officers as well to make sure that there intentions are right and not just for the money, so in our case our intention is perfect because it is also stipulated on the terms and conditions of this application which would be sent to you later when you contact them. When you apply and fill the documents they would also be required to pay a few charge for this process before you can get my application. I hope you understand all this, if you do and you are truly willing to have me come to your country soon so we can meet, spend our birthdays with you and plan more on our future with my allowance you are going to get please let me know so i can write more further to tell you what you have to do and give you a little insight about the plans i have for our future. I love you sincerely from the bottom of my heart….Kisses and Hugs…xo
Share this post with your friends
By Christian Filipina - Click to Visit And Add Us Into Your Circles