NINOY AQUINO INTERNATIONAL AIRPORT (NAIA) is situated close to the main Commercial Business Districts of Manila.   When you arrive, you can take a taxi to any destination nearby (within 20 miles or so), or to find a transfer station to take a bus to travel elsewhere in Luzon.
Manila and nearby cities 
If you love the hustle and bustle of City life, you can stay right in Manila or a nearby city. You can get around by taxi, bus, MRT, LRT and  jeepney. There are hundreds of hotels to choose from, with prices ranging from 800 pesos to 10,000 pesos per night. (Members of Christian Filipina can get a discount we have negotiated at some of these hotels.) Most foreigners stay in Manila to experience the night life, casino, good food and to meet friendly Filipinos. Shopping – or just walking around the huge malls – is always an attraction. Visitors shop at Greenhills, Divisoria and SM Mall chains. For a special treat, check out the historical monuments including Fort Santiago, Intramuros and Rizal Park by riding a "kalesa" (horse drawn carriage) – especially if you are visitng with your special someone. One final suggestion is to enjoy a day at Manila Ocean Park. Then it might be time to check out other destinations in Luzon, inclduing Subic bay, for instance.
Subic Bay
Subic Bay is known in the Philippines for sports and extreme adventures. Subic is often called as "Honolulu in the Philippines". Historically, tens of thousdands of military first set foot on soil in the Philippines in Subic. It is well known for it's panoramic views and fun water sports activities. It offers a wide range of hotels and resorts inside the bay area or if on a tight budget outside Olongapo or Barretto area. Travelling by land going to Subic Bay is very easy now with the opening of the Subic-Clark expressway.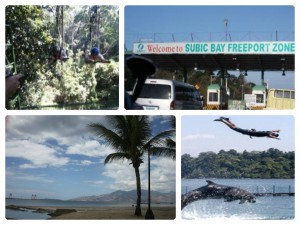 Water activities like Yachting/Sailing, Kayaking / Canoeing, Jetski, Surfing, and  Scuba Diving are offered in hotels and resorts. Zoobic Safari is one attraction found in Subic Bay Freeport's Forest Adventure, where tourists can tour the forest by riding in a "Safari Jeepney".  The tour will let you meet animals up close. For Tourists who just love water, Ocean Adventure is the first marine themed park in Southeast Asia. Sea lions and whales perform daily. For a fee, visitors can even swim with the dolphins and take pictures up close.  Tourist can even enjoy horse back riding and tree top adventure where canopy ride and trekking is offered to complete the adventure.
Baguio City and Tagaytay City
Though the Philippines is a tropical country, Baguio can get downright chilly. Every summer (march-may) people go to Baguio or Tagaytay to avoid the summer heat. Temperature can go down as low as 6.3 degrees Celsius. Hotels are spread out in the city so research in advance is advised.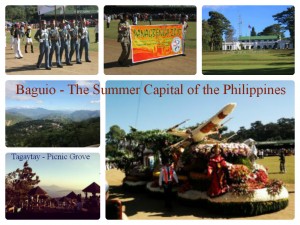 Baguio offers great views almost everywhere you look. The best time to visit is the last week of February for the Panagbenga festival. Car floats made of fresh flowers are paraded throughout the city. Known places to visit when you are in Baguio are Burnham Park, Mines View Park, Camp John Hay, and Strawberry Farm. For the most adventurous, to see hanging coffins you can go to Sagada after touring Baguio. It is also known for silver jewelries, hand woven fabrics, sweets, preserves, flowers and fresh vegetables.
Unlike Baguio, Tagaytay City is just an hour away from Manila by car. Hotels and Restaurants offers great services widely spread across Tagaytay city.  Tourist can enjoy restraunts that overlook mountains, lakes and the Mt. Taal volcano.  The country's one and only Swiss-engineered cable car system is open to the public and right here in Tagaytay.
Ilocos Region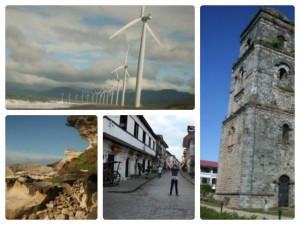 Ilocos is located in the northwest of Luzon. Composed of four Provinces – Ilocos Norte, Ilocos Sur, La Union and Pangasinan – it also has an international airport.
Laoag city in Ilocos Norte has direct services flights to and from Hong Kong and mainland China, as well as, domestic flights. Recently, the only 5 Star Hotel in Northern Luzon was built to attract casino-goers and tourists. Heritage sites, Philippine-baroque churches and Marcos-era mansions made the city well known as destination for educational field trips. White sand beach resorts in Pagudpod get top ratings on most travel sites.
Ilocos Sur Vigan City is located on the western coast of the large island of Luzon. It is one of the few Hispanic towns left in the Philippines, and is well known for its cobblestone streets, and a unique architecture that combines Philippine, Oriental and European building in private and public architecture.
On the way to Ilocos, you will pass by San Fernando which is the capital city of La Union. It is known for its Beaches (in 11 of the coastal barangays) and marine sanctuary.
Lingayen, Pangasinan, is a first class municipality and boasts several beautiful attractions such as Lingayen Beach and the World War II Memorabilia Ground Site.
Bicol Region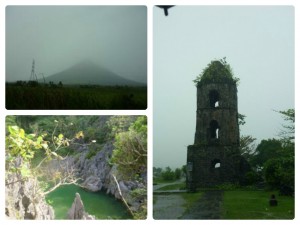 Bicol is located in the southernmost tip of Luzon Island. Mayon Volcano can be found on Bicol region. It became famous due to its perfect cone shape.  In CamSur, beaches in Caramoan have coral reefs, and white and black sand beaches. Try whale watching, or visit beaches, mountains, waterfalls with lush vegetation. Additional options include scuba diving, spelunking, mountaineering and visits to man-made attractions such as church architecture from the Spanish Colonial Period.
Additional Resources:
http://www.wowphilippinestravelagency.com/destinations/index.php
http://lakbaypilipinas.com/philippines_destinations.html
Share this post with your friends
By Christian Filipina - Click to Visit And Add Us Into Your Circles