Christian Filipina is committed to making it as safe as possible for you to meet sincere friends on our site. One feature we have developed for you is Profile Verification. A verified profile will always stand out from other profiles. A verified profile means that the profile's creator has submitted evidence that he or she is who he or she claims to be.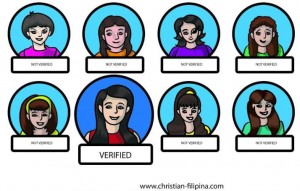 We suggest that you verify your own profile, and that you also insist that the members you would like to meet verify their profiles. It is easy to do.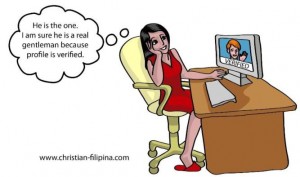 The culture that we have in CF is different from many sites out there. We encourage members to display Christian values, use their real first name, and get to be friends.
To verify your profile and increase your verification level, you must meet the requirements and submit the appropriate documentation. To submit this documentation, use our Contact Us Page and attach the images of each ID with separate form submissions, or email them to us.
These are the requirements to qualify for verification:
a. Must have a complete profile
b. Must register with a valid email address.
c. Must have at least 2 uploaded photos
These are the appropriate documentations:
LEVEL 1: Valid ID (primary or secondary)
This ID must contain:
-Name
-Location/Address
-Recent Photo
-Birthday
-Gender
LEVEL 2: Valid ID and verified SSS# (social security number) from your country of citizenship
LEVEL3: Valid ID, verified SSS# , and letter from pastor acknowledging membership in church
**Your documents will be used exclusively for profile verification purposes and won't be shared with any other members or any third-party.
This  can be found on the FAQ page and go to FAQ #19 for easy steps to have your profile verified.
Our profile verification process, while a step towards transparency, is still no substitute for common sense. We are only able to check whether the IDs appear to be real based on our educated guess. We do not actually submit these to compare with a government database, or conduct any criminal or other background check.
To encourage you to verify your profile, you can even qualify for a special coupon code to upgrade your membership if you verify your profile.
Remember, you should still be conservative in getting to know a new friend, take your time, never send money or gifts to anyone you haven't met, and meet in person only in a public place with a friend or family member until you know someone well.
Share this post with your friends
By Christian Filipina - Click to Visit And Add Us Into Your Circles