"Honor your father and mother, as the Lord your God has commanded you, so that you may live long and that it may go well with you in the land the Lord your God is giving you." – Deuteronomy 5:16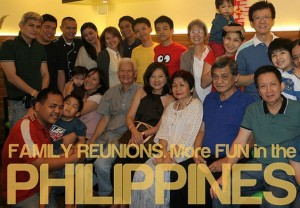 Filipinos are fundamentally imbued with utmost respect for elders (also called "paggalang sa nakatatanda" in Tagalog). Most of the time, Filipinos consider the words of someone older as a norm that has to respected and obeyed. Because of this great respect for people who are older, and all others who are related to their elders, Filipinos are known to have the characteristic of having close family ties even with distant cousins they have never met.
Filipinos consider their great, great, grandmother or grandfather as part of their immediate family. All children, cousins, brothers and sisters, grandchildren, and great grandchildren of their great, great, grandmother or grandfather are also part of their family. This tradition of recognizing your entire "family tree" as part of their immediate family has probably helped Filipinos in honing their hospitality. And due to this hospitality; they also consider friends, officemates, neighbors, and tourists as part of their "family".
Given that Filipinos do have a big family, family gatherings are indeed epic. Here are some things you would probably notice during a typical Filipino family gathering:
1. Lots of food!
All Filipino gatherings are considered fiestas that involve an enormous amount of food. Some of the foods present are lechon, pancit, lumpiang shanghai, rice, menudo, and many other Filipino delicacies. As a guest, you are not expected to bring anything. However, if you do bring something as an addition to the foods prepared, then, it will be very much appreciated.
2. Pagmamano
The Filipino tradition of pagmamano involves kissing an elder's hand or raising the hand to touch your forehead as a sign of respect. So, as a guest, it is also expected that you do the same act to show your respect to the elders.
3. Non-stop picture taking
In attending Filipino family gatherings, make sure to dress up and look your best. Picture taking will never stop. Pictures will always be taken in all directions.
4. Singing
Most of the Filipino family gatherings involve considerable joviality. People always sing in these joyous occasions. The famous "karaoke" is often used in singing. And as a guest, you'll always be one of the first persons compelled to hold the microphone and sing! Thus, for an extra effect, before attending the family gathering, make sure you have rehearsed a couple of songs.
If ever you are invited to one of these cheerful Filipino gatherings, remember to prepare yourself in memorizing the guests' names! Even if you remember just a few, the effort will be appreciated.
The Christian-Filipina family is hoping you'll be able to attend many classic Filipino family gatherings in your future.
Share this post with your friends
By Christian Filipina - Click to Visit And Add Us Into Your Circles