Upon arriving at Mactan International Airport, make sure you have all your things with you, and nothing is left in the plane or at the baggage terminal.  You might be tired or excited, so we just want to make sure you still keep your head on straight.
There are lots of things you can do when you visit Cebu City and Province.  If diving is your interest, Mactan Island is the place that you are looking for (or for a longer excursion check out Apo Island).  Many tourists spend their time in some islands located in Cebu, specifically in Mactan.  Nearby is also Nalusuan Island, where you can go Island hopping together with your loved one and know each other more before getting married.  Another thing to do is to visit the tourist spots.  There you can see inspiring views and people having fun together with their families and friends. Actually, when you are in Cebu, you cannot feel bored because people are so welcoming and approachable.  They will treat you like a family member; that's why many foreigners want to marry a Cebuana Filipina woman.
To make your vacation a blessed one, many people believe that visiting the Basilica del Sto. Niño is the best way to start a vacation in Cebu.  Even if you are not Catholic, you are welcome to enter and welcome to experience the place where millions of Cebuanos have heard the story of Jesus Christ.
You can see different nationalities visiting the church, "dagkot" or lighting a candle is what most people do especially when there is no Holy Mass scheduled.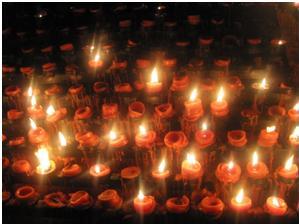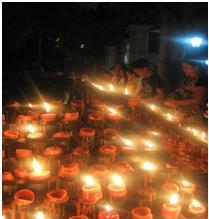 Inside the church you will see people from different walks of life praying for their petitions in life and thanking Senior Sto. Niño for all the blessings received.  Many also go to the wishing well, where many people believed that a piece of a coin is the answer to their wishes in life.
After visiting the oldest Church in the Philippines, you may now take a look and visit the beautiful beaches of Cebu.  You can experience the fresh air, the breeze and the calmness of the water.
Here are some things you need to experience and visit when you are in Cebu: 
ISLAND HOPPING
Island hopping is well-known here in Cebu.  It is a wholesome activity to be enjoyed with friends and family.  It is not expensive and can make you feel happy and relaxed.  Food is not a problem because you don't need to bring anything with you in the boat; boat owners will be the ones to take care of the food.  The only thing you will do is to pay for the accommodation.  Then you can  eat, take pictures, and of course experience and enjoy the calmness of the beach. The local food is very delicious, and give you a taste of the local delicacies.

Kinilaw nga guso, tahong, pork-humba, gisadong manok, etc.

It is also very romantic if you will have your proposal during the Island hopping, it would be great to pop the question after swimming together , just be careful not to drop the ring in the water.

ZIP LINE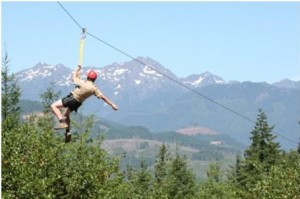 Zip-line is one of the most exciting adventures that you really need to experience.  Zip-line is both for kids and adults; you need not to worry about this because it is very safe.  Actually, many foreigners try this activity when they visit Cebu.
It only costs Php 350-600 each for three tries.  You can find lots of zip-lines here in Cebu; many Filipina women try this with their foreigner fiancé or husband.
KAWASAN FALLS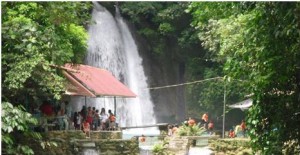 Kawasan Falls is a natural spring water fall located at Badian, Cebu, about 130 kilometers from Cebu City and about three-hour bus ride and two and half hours if you have your own car.
Upon the entrance, you need to walk uphill through an adventurous road for about 1.5 kilometers to get to the first waterfall (which is the largest of the three).  But it is worth it.
Kawasan Falls is very relaxing; the calmness of the water will really make you feel relaxed and cool until the end of the day.  It has three falls that are 500 meters away from each other.
Bringing your own food during the trip is highly advised for you to save money.
There are also cottages where you can rent for Php 1500-2000 and place all your things, but be careful, it's a reality around the world there are persons you cannot trust especially with your valuable things.  Rooms are also available for those who want to have an overnight stay.
Rafting is one great activity that people want to experience when they are in the Kawasan Falls area. We like to joke that there is also a shower massage under the falls, a  relaxing experience: you can have an instant whole body massage for just only Php 350 pesos for the whole group of your friends and families.  Life vests are available for only Php 35 to Php 50 each.  (Always be prepared for little extra surcharges in the Philippines, no matter what activities you choose).
MOUNTAIN VIEW
Mountain View is one of the best attractions of the City which gives you a new kind of experience away from the hassle of the city.  It's just 15 to 20 minutes ride from the city.  You can go there by riding a taxi or a motorcycle which is also known as "habal-habal".  It is a perfectly romantic place for a couple.  It is located at nature Park, Barangay Busay, Cebu City. If you want to experience the sunset sightseeing go there before 5pm or stay until after 5-6pm to experience the amazing view at night.

The entrance fee to this romantic place is only Php 50 per head and you can stay as long as you want.
Aside from experiencing the fresh air; they also have small canteens that serve foods and drinks.  Karaoke is also available.
The Mountain View area is the perfect one for you to relax and enjoy with your family and friends, and a good place for lovers, too.  Fresh air, peace and quite.  This is one of the best dating places here in Cebu City.  Actually, many wedding receptions are held in this mountainous area.  You will see for yourself why Filipina brides are happy to have the continuation of their wedding celebration in such a very inspiring and perfect place.
PAINTBALL
Want to boast your excitement and experience like an army? Well, you really need to try this activity, named as Painball at Weboss.  The game consists of two groups with maximum of five to six members. Each team has their own "headquarters" to rest and to prepare for the battle.   It is located at Banilad, Cebu City 15 minutes travel from the City.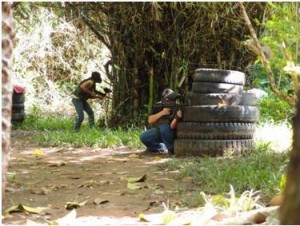 During the battle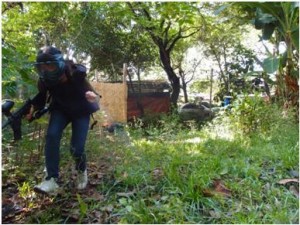 The organizer is the one who will instruct when to attack and when to stop.  Once you are hit by the ball, you should raise your gun as a sign that you are "dead" and your opponents will not hit you anymore.  The ball hurts a bit when it will hit, but you won't notice because you are having so much fun.
GO CART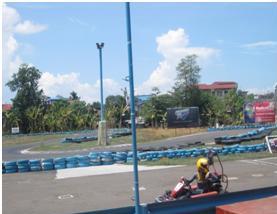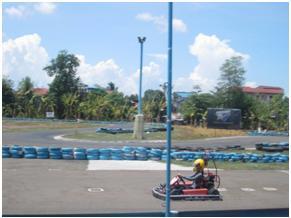 Some people would spend their time in beaches, shopping and sight-seeing.  But if you want to do something absolutely crazy, try the Go-kart at Kartzone.  Go-kart is a small four-wheeled vehicle. It only cost Php 375 per head for 8 laps inclusive of the use of helmet.
This activity is for everybody; there will be a marshal or a staff who will demonstrate how to use the cart, and even a person who has never driven anything can do it. After finishing the eight (8) laps, the marshal will ask you to stop by raising the flag.
Kartzone Cebu is open from Monday to Saturday starting 9:00am to 8:00pm on regular days.  During summer, they are open until 11:00pm.  You can reach them through landline number:  +63-32-422-2782 or you can visit the place located at Panagda-it, Cebu City near Sykes Call Center.
SIMALA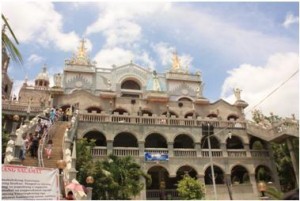 This Miraculous Shrine is located at Lindogon, Sibonga of Cebu. This is 10-15 kilometers away from Sibonga town and 45-55 kilometers away from Cebu City.
Many people believe that this solemn Shrine is very miraculous. All petitions are written in a piece of paper.  Mementos like wheelchairs are placed in a glass.  The owners of those wheelchairs donated them because their prayers wer answered, allowing them to walk again.  Different colors of candles are also available, red, blue, pink, yellow and orange which symbolize respective meanings such as love, peace, health, money and career.
VIDEOKE BAR
This activity is most Filipinos' all time favorite, especially among Filipina ladies.  Aside from being a good stress reliever, it is also a good exercise to your vocal cords. Singing your favorite song or your theme song is really a nice feeling. Many say that if you can't say it, then sing it.  But usually avoid videoke bars if there are any people around who have had too much too drink.  Just find another one, it won't be far.
You can find lots of videoke bars in Cebu City, particularly on Mango Square Avenue.  Many have advanced computerized karaoke systems.
Another recommendation is the Red Box videoke bar, near the Ayala Center Mall. It is located at the terraces right beside MAX CHICKEN restaurant.
Give man fish and he'll live for a day. Give a Filipino a microphone and he'll most likely sing all night long. Cebuanos really love to sing even though without a contest happening. Red box has 21 unique rooms that you can have activities and celebrate your parties hassle-free.  The place is huge and every room has excellent interiors.  Instead of having the usual per-hour rates of the regular karaoke bars in Cebu, Red Box Karaoke offers unique rate packages on a per-head basis. You may visit this site to know more about Redbox http://everythingubec.blogspot.com/2010/09/red-box-karaoke-in-cebu.html.
All things mentioned above are just an overview of what you can do when you will visit Cebu.  So come and visit us and enjoy the places with us.
Share this post with your friends
By Christian Filipina - Click to Visit And Add Us Into Your Circles