The Lord God said, "It is not good for the man to be alone. I will make a helper suitable for him." (Genesis 2:18)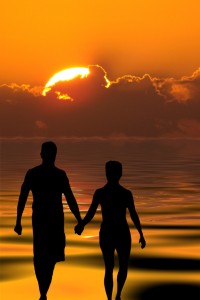 Whether a person believes in Creation literally, metaphorically, or not at all, the fact is clear: the temperaments, abilities and bodies of men and women are complimentary for lifelong partnership. And, man also is designed with a free will to choose. Who will you choose as your wife?
Your choice of life partner is the most important factor in determining what kind of life you will have. Will you use your God-given mind to think clearly about your values and find someone who will complement you as she stays at your side? What will be your choice? Since you have joined our site Christian Filipina, we are sure that you have heard or seen that many men who have married Filipinas are happy. Even Alec Baldwin made a joke about it. Maybe the joke was funny, or maybe not; maybe it was offensive, or maybe not. But the truth behind the joke is why you are here on the site. We don't want to offend anyone who is not a Filipina, but Filipinas make great wives.
There are many reasons why Western men prefer Filipinas to date with and to be their wife if things go well during courtship. Let us remind you of the top 3:
Filipinas are family oriented. For them, family is their first priority. Whether they are staying in the house or working, they will always see to it that the kids are well taken care of and the husband's needs are met. Some still even stay with their parents until they are married and will always try to help their family members. A Filipina will work tirelessly for her family; she will never be a lazy person. Family is their source for motivation to go on living. A happy family is the one and only thing that a Filipina will work for, and the one and only thing that can keep her happy.

Philippine women are Christian and show Christian hospitality. Women raised in the Filipino culture are accommodating to their friends and husband. They are warm in their approach. As long as she knows she can trust you, she would always treat new acquaintances like old friends.

They want a life time commitment. Filipinas seek a partner who can endure a lifetime relationship. They know they need someone who will be with them despite the challenges in life that she will go through. Further, Since Philippines is a predominantly Christian country, separation from spouses is frowned in the society. If you choose to marry a Filipino woman, the chance of later needing to get a divorce attorney is very slim. As long as you are faithful, your Filipina wife will always be at your side through good times and bad times.
Please note that while Filipina women are famously beautiful and physically passionate in private with their husbands, this is deliberately not in the list of the top 3 most important items for you to consider when choosing your wife. You must look at values and lifestyle compatibilitiy first. This is the path to end up in the marriage God has in mind for you.
Share this post with your friends
By Christian Filipina - Click to Visit And Add Us Into Your Circles